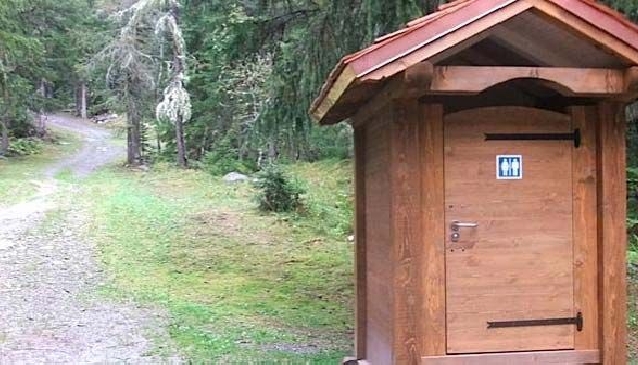 Don't Get Caught Short in Chamonix
Editorial
...there's nothing basic about these WCs – a lino floor, a proper ceramic toilet, and a basin.
Chamonix, after years in the public toilet wilderness, has finally seen the light with a new eco-friendly toilet project which was launched this summer and immediately hailed a success.
Much to the relief of the thousands of visitors who arrive in Chamonix each day, these new toilets have been installed all over the valley in the town centre and out of the resort, conveniently and discretely placed along popular walking routes.
Until this summer, for a town that welcomes up to 100,000 people per day, Chamonix was willfully lacking when it came to public conveniences. Following a research project by the local commune (the Chamonix Mairie), it was decided to put out to tender a new toilet project.
A local company won the contract to build, install and maintain these new toilet cabins and we started to notice eco-friendly loos appearing all over the valley at the start of the summer holidays.
Clad with wood, the toilet integrates well into the environment, yet open the door and there is nothing basic about these woodland WCs – a lino floor, a proper ceramic toilet complete with fully flushing system and a little hand basin too!
Every day the custom-built mini-truck does a tour of the installations to make sure they are emptied, cleaned and ready to go again the next day. We caught up with Mr Devoussaux from Argentiere who operates the business and he commented: "I've been really pleased with the reaction from both Chamonix residents and tourists who express their delight and surprise at how clean and modern these toilets are, without being detrimental to the alpine setting. We're hoping to introduce even more for next year."
So far the loos have been installed in a variety of locations, including next to the main Chamonix SNCF train station in the centre of Chamonix, just after the Chamonix golf course on the way to Paradis des Praz, along the Promenade de l'Arve at Grassonnets near Argentiere, along the Petit Balcon Nord route near Les Chosalets and at the the car park in Trelechamp on the way up to the col des Montets.
What's even more impressive is that the toilets are free to use and not electronic like the paying ones often found in European towns and cities which scare people too much too use them!