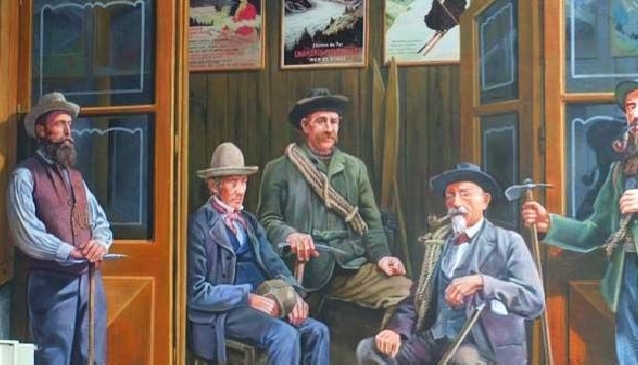 A Super Fresco Brings Chamonix History to Life
Arts & Culture
Rene Claret Tournier...has climbed Mont Blanc an amazing 530 times during his career.
Every year over 20,000 people set off from Chamonix to follow in the footsteps of Balmat and Paccard to conquer the 4810m peak of Mont Blanc. It's sure to say the mountain has achieved mythical status, being the highest in the Alps, Western Europe and the EU.
Even those coming to Chamonix who are not climbers are impressed by the majesty of Mont Blanc. Heading up the Aiguille du Midi cable car to the summit at 3842m looks temptingly close to Mont Blanc, but it is still 1000m lower than the snowy summit.
Keen to celebrate and commemorate the alpinists and guides who lived and breathed Mont Blanc, Chamonix town commissioned a fresco to be painted on the side of one of the buildings in the resort centre.
The fresco, realised by the company A-fresco.com (who also painted a fresco on the Chamonix Cinema building) shows a mythical "Bureau des Guides" with some of the best-known mountaineering faces spanning the last four centuries. The atmosphere is most convivial, with guides chatting on the balconies and huddling together watching the world go by from the doorway.
Of course, Jacques Balmat and Dr Michel-Gabriel Paccard are there, as are Marie Paradis and Henriette d'Angeville, the first and second women respectively to reach the summit of Mont Blanc. And there are the likes of local legends Louis Lachenal, Lionel Terray, Roger Frison-Roche and Joseph Ravanel, accompanied by adoptive sons such as the inspired climber Gaston Rebuffat.
Even the living legends are represented with a young Rene Claret Tournier featuring on the wall painting. It was quite a moment for the man himself, now retired from guiding, to come face to face with himself at the inauguration ceremony. As the only living person to appear on the fresco, Rene was clearly moved but we think he merits his place as he has climbed Mont Blanc an amazing 530 times during his career!
To see this extraordinary fresco in the heart of Chamonix, you'll find it on the wall of the traditional town house next to LCL bank, which is in the Place des Alpes, in front of the Grand Hotel des Alpes.
If, having seen the painting, you are inspired to make your own ascension of Mont Blanc, you will need to take a guide with you. Most climbers head from the Nid d'Aigle in Les Houches to summit Mont Blanc via the Dome du Gouter, (the 'normal' or Voie Royale), whilst the more technical route (La Voie des 3 Monts) is from the Aiguille du Midi and tackles the Tacul and Mont Maudit. There are lots of fully qualified independent and guiding companies in Chamonix ready to advise and lead the way.